Siemens Help Turn Wine Waitresses into Wine 'Angels'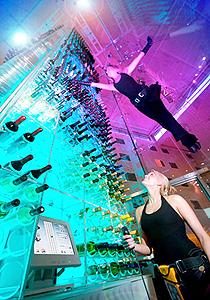 When a flagship hotel located at the UK's fastest growing airport decided it wanted a 13 metre high, 6.5 tonne wine tower with a 4 metre square footprint as the centrepiece of its restaurant bar, the building contractor was left in a quandary as to how waitresses would reach the 4000 bottles it would contain. Fortunately, thanks to the high functionality of Siemens Automation and Drives' automation and control equipment, a four-axis system of winches and harnesses allows wine 'angels' to 'fly' up each side of the tower to collect their order in front of amazed hotel guests.
The wine tower is located at the new Radisson SAS Hotel adjacent to London Stansted Airport in Essex. The problem of providing a four-axis flying system was initially passed from the building contractor to London-based Stage Technologies, a specialist supplier of engineering solutions to the entertainment industry, predominantly theatres. Recent West End productions provided for by Stage Technologies include Mary Poppins, The Producers, Chitty Chitty Bang Bang and Miss Saigon.
Working with Stage Technologies on the wine tower project was HMK, a Siemens Technology Partner on drives and motion control. Stage Technologies has worked with HMK for nearly 10 years, with the latter specifying and supplying Siemens products for the various projects undertaken. "The flying of scenery and props is not uncommon," explains HMK's managing director Carl Krajewski, "but when we start flying people about, safety becomes the number one priority."
It's a view shared by Stage Technologies engineering assistant, Mike Gillman: "Someone's life is in our hands so a lot of development work takes place to ensure the system is completely safe. Final design safety features on this project include: an emergency stop carried in the belt of each wine angel, which brings the harness to a safe stop if activated; dual brakes on the winches; two logical control position loops so the system can detect if the angels are travelling over speed; and of course everything is load tested way beyond normal limits." Compliance standards for the equipment applied on the project include BS EN 61508 (SIL level 4) and BS 7905.