Green Drives Crucial to Green Project
Variable speed AC drives from Control Techniques are at the heart of one of the world's best examples of sustainable energy utilisation at West Beacon Farm near Loughborough.
Beacon Energy, a non-profit making company, was established with the objective of promoting public awareness of global warming and to encourage the reduction of CO2 emissions. West Beacon Farm features many different interlinked renewable energy technologies and enables Beacon Energy to be virtually independent from the national grid and fossil fuels. Each technology feeds its energy into a common DC bus via Unidrive SP AC drives from Control Techniques and further Unidrives feed on site single and three-phase electricity needs.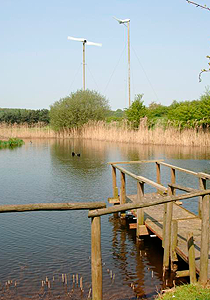 "We chose Unidrives because of their versatility," explains Loughborough University PhD research student Matthew Little, who has been heavily involved in the development of the integrated system. "We needed drives with a particular mix of features – on-board programming, high speed communications, four-quadrant control – and a supplier who would provide us with exceptional support throughout the project. Control Techniques loaned us drives and other equipment, helped us with design and programming and have been on hand to help at each stage."
Whittle Hill Farm Buildings, the home of Beacon Energy, and West Beacon Farm, the family home of Professor Tony and Angela Marmont, together form the test-bed for renewable energy in almost all its forms – wind turbines, photo-voltaic panels, a ground-source heat-pump system, a hydrogen energy storage system incorporating an electrolyser, storage tanks and two fuel cells , a combined heat and power unit powered by propane, solar water heating and two water-powered generators.
Every aspect of the site looks towards conservation, from the use of spring and rain water, septic tanks and composting toilets, high levels of insulation and creative use of natural light and passive cooling in summer. Not surprising that the site provides research opportunities for the renewable energy centres at Loughborough, De Montfort and Nottingham Universities and there is a heavy programme of educational visits for schoolchildren of all ages.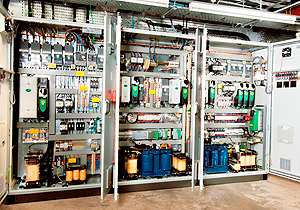 Control Techniques has supplied a total of 14 drives to West Beacon Farm, nearly all being Unidrive SP AC drives, all fitted with a programmable application module to give on-board programming and CT-Net high-speed networking for data collection and diagnostics. Data is fed into a PC running LabView, which interfaces with CT-Net and monitors every aspect of the system helping to analyse the effectiveness of the different technologies.
West Beacon Farm has now become one of the world's best examples of renewable energy in practice. West Beacon Farm demonstrates how integrated renewable energy systems combined with other sustainable practices can form an effective and reliable independent network. For further details go to BeaconEnergy.co.uk.
"We have been supported throughout by many suppliers," concludes Matthew Little, "and Control Techniques' contribution, in particular, has been crucial throughout."