Stripping out energy inefficiency at Corus
Corus Strip Products UK, at Llanwern near Newport is part of the world leading Corus Group of companies. Yet, by its own admission a review of the energy efficiency of its strip mills was long overdue. Partnering the project to improve efficiency at Llanwern is Siemens Automation & Drives, which was supplying a drive solution involving the retrofit of four variable speed drives to achieve electricity savings in the realm of £17,000 a week.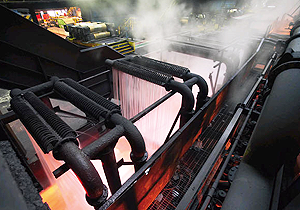 Approximately 40 years ago, the steel plant at Llanwern was fitted with four 1.4MW, 11kV fixed speed descaling pump motors. According to Corus electrical engineer, Gareth Hudson, the amount of energy being wasted by these ageing units was "Excessive and typical for 1960's vintage". With the old fixed speed scheme, the pumps run at nearly full power all the time, whether water is needed or not. As a result the company began to look at ways of reducing energy costs, concluding the most effective method to be the introduction of variable speed drives which would allow the pumps to be slowed, and hence energy to be saved, when descaling water is not needed. A scheme was produced and sanctioned, and three global drive system providers were asked to tender for the contract, which was worth in approximately £760,000.
The Hot Strip Mill at Llanwern takes steel slabs up to 27 tonnes and reduces them into high quality strip between 1.4mm and 12mm thick, in a variety of widths. At each of the roughing mills (six in total) and immediately prior to the finishing mills, the descaling pumps blast the hot steel slabs with water at high pressure (120 bar) to break and remove the surface scale. The Corus hot strip mill at Llanwern consists of a roughing mill train consisting of six 'stands' , and a finishing train of seven close-coupled 'stands'. Each of the processes feature dedicated descaling stations of four descaling pumps. Today, the mill runs continuously for 49 weeks of the year, with each one serviced by two fixed speed pumps and two variable speed pumps, all automated by Siemens.
The use of variable speed drives at Llanwern offer significant benefits. The primary reason is because of the cube relationship between power and speed when descaling water is not needed (e.g. when there is no metal in the mill). This means that power drawn drops away much faster than speed, when speed is reduced. For instance, at 80 per cent speed, the motor only uses 50 per cent of the power.
The estimated savings are phenomenal, as senior electrical engineer Alistair Ritchie verifies: "From post-commissioning studies we have calculated the annual anticipated energy savings resulting from this project to be £820,000 in electricity alone, which will provide payback in 0.88 years. In addition, as the new system is considerable kinder to the various mechanical components, wear rates will be less. This will result in an estimated annual reduction in the cost of maintenance of around £125,000."